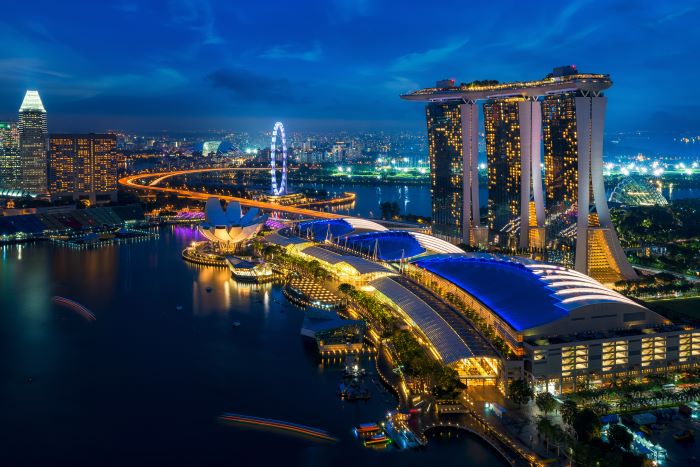 Singapore may be a small city but a playground for a wonderful experience, comfort, and relaxation. It is one of the most visited countries in the world thanks to its blend of Asian and European cultures. As one of the most prosperous city-states in the world, it is home to vibrant shopping, food, entertainment, and nightlife experiences. Some of the best places to visit in Singapore feature interesting elements that offer an experience of a lifetime.
The island city offers a unique personality during the day or at night. It is a perfect destination for a family vacation, honeymoon holiday, or even an outing with family and friends. You don't need to worry about what to explore in the city-state. We have sampled some of the best places to visit in Singapore for a one-of-a-kind experience.
Best Places to Visit in Singapore
Marina Bay Sands
Nothing more than the Marina Bay Sands symbolizes Singapore's elegant opulence, style, and status. It is an integrated resort that features everything anyone would like to explore while traveling. It features luxury hotels, restaurants, and endless shops, some of the biggest and most exclusive brands.
It is also home to one of the largest theaters in Asia, an ArtScience Museum, and entertainment hubs. Most people also visit to explore skating rings made from synthetic ice. In addition, the Skylark Observation Park within the marina offers panoramic views of the city.
Singapore Botanic Gardens
Singapore is not all about extravagance and opulence. There are also areas travelers on a budget can visit and have quality time. For example, the Singapore Botanic Gardens are a must-visit for anyone looking to interact with nature and breach fresh air away from the busy city.
The garden is free to enter and contains over 60,000 species of plants and animals. It also offers a perfect family setting with the world's first children's garden. While free, you will have to pay a small fee to enter the National Orchid Garden, the most visited part of the gardens.
Singapore Zoo
The Singapore Zoo is one of the best places to visit in Singapore for anyone looking to experience the world's best-maintained rainforest zoo. The facility is clean and inviting and home to rare, well-treated species.
The zoo is home to orangutans constantly swinging above their platforms for a fruit snack. There is also a large presence of chimpanzees, zebras, and Komodo Dragons. White Tigers and Kangaroos are also available among other animals.
The Orchard Road
Orchard Road is a must-visit if you are into fashion and want to see what the biggest and best brands offer. It is a shopping epicenter with high-end stores at every turn. The presence of more than 20 malls and department stores means you can always have everything.
Additionally, Orchard Road is home to four movie theaters with plenty of eateries serving local and international cuisines. It also boasts an active nightlife with plenty of nightclubs and hotels. As the official residence of the president, security is always guaranteed.
Singapore Flyer
Opened in 2008, it is one of the best places to visit in Singapore for anyone looking to get a perfect aerial view of the city from above. Home to a giant Ferris Wheel, it works best as an observer tower for panoramic views of the city-state.
The cars in the Ferris Wheel hold up to 28 people and circle above the city, reaching up to 541 feet above the Singaporean sky. Flights in the wheels last up to 30 minutes, running from early morning until late at night. The Flyer's terminal also includes restaurants, shops, and other services.
Bottom Line
Singapore is not your typical travel destination but a vibrant city with plenty of things to do and explore during the day and at night. It is a perfect place for cooling off, a family vacation, and even a honeymoon. Some of the best places to visit in Singapore offer the best experience and ambiance for leisure and doing business.