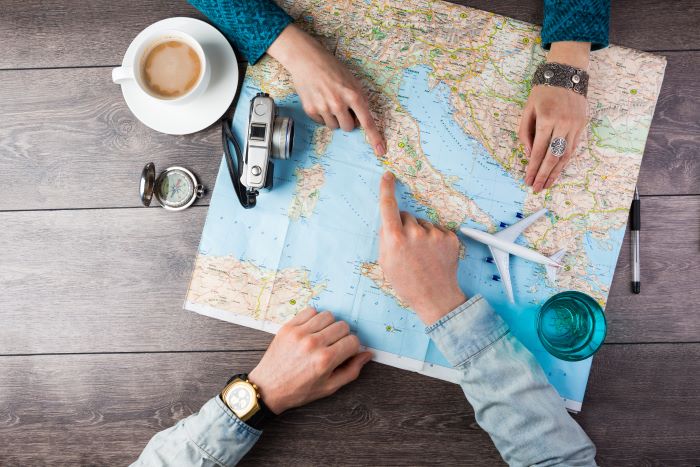 Vacationing to new places has never been easier. With the help of travel companies, people have a simpler time choosing hotels, resorts, car rentals, and other services. As more people travel, these companies are making high profits. Below are the most valuable travel companies.
1. Booking Holdings Inc (NASDAQ: BKNG)
Booking Holdings Inc (BKNG) is the most valuable travel company worldwide, with a market capitalization of $95.3 billion. Jay S. Walker founded the company in 1996. Its headquarters in Connecticut, U.S., is currently run by its CEO, Glenn D. Fogel, and CFO, Peter J. Millones, Jr.
Booking Holdings is incorporated under Delaware General Corporation Law. It operates travel fare aggregators and meta-search engines. The company operates under several brands, including Booking.com, Priceline.com, OpenTable, Agoda.com, Rentalcars.com, Cheapflights, and Kayake.com. Booking Holdings operates in more than 200 countries and has websites in about 40 languages. In 2022, the company was 340th on the list of Fortune 500 companies.
2. Airbnb Inc (NASDAQ: ABNB)
This company has a market cap of $75.15 billion. Its founders include Joe Gebbia, Nathan Blecharczyk, and Brian Chesky, who started the company in 2008. Airbnb Inc (NASDAQ: ABNB) was originally AirBedandBreakfast.com until executives shortened the name.
The San Francisco-based company began short-term homestays, lodgings, and hospitality. It operates as a broker and charges a commission to Airbnb hosts for advertising their houses on its website.
Airbnb quickly gained popularity when it started, giving vacationers affordable accommodation and providing household amenities. The company faced a decline in profits during the 2020 pandemic. However, as travel restrictions eased, it has seen an increase in earnings despite hosts struggling to fill their homes with guests. People speculate that the decline in Airbnb bookings is due to a rise in prices and hosts requesting their guests to do chores despite paying high cleaning fees.
3. Marriott International Inc (NASDAQ: MAR)
Marriot International Inc (NASDAQ: MAR) has a market cap of $75.15 billion. It was founded in 1927 by J. Willard and Alice Marriott. The company, with its headquarters in Maryland, U.S., operates hotels, restaurants, and residential and timeshare properties. It has over 8400 locations globally. Marriott operates under several subsidiaries, including Marriott Hotels & Resorts, The Ritz-Carlton Hotel Company, and Sheraton Hotels & Resorts, among others.
The company's key executives are Bill Marriott, the Chairman Emeritus; David Marriott, the Chairman; Stephanie Linnartz, the president; and Anthony Capuano, the CEO.
4. Oriental Land
The company has a market cap of $55.21 billion. It is based in Chiba, Japan, and is a Keisei Electric Railway Company subsidiary. The company's CEO and chairman is Toshio Kagami, while its COO is Kenji Yoshida.
Oriental Land operates under three categories. These are theme parks, hotels, and other businesses. It has licenses from Disney that allow it to run its theme Park and four of its hotels. Disney Ambassador Hotel, Tokyo DisneySea Hotel, Tokyo Disneyland Hotel, and Tokyo Disney Resorts. These hotels and MiraCosta operate under the Milial Resort Hotels Co., Ltd subsidiary. In addition, it operates Kyoto Brighton Hotel, Urayasu Brighton Hotel, and Palm & Fountain Terrace Hotel under the Brighton Co., Ltd subsidiary.
5. Las Vegas Sands Corp (NYSE: LVS)
This company has a market cap of $49.38 billion. Founded in 1988 by Sheldon Adelson, its goal is to integrate accommodation, gambling, meeting space, and retail. It is run by its CEO and Chairman, Robert G. Goldstein. The COO and President of the company is Patrick Dumont.
Las Vegas Sands has many resorts in Asia, including Marina Bay Sands in Singapore. The company also owns Macau Sands, which runs The Londoners Macao, The Parisian Macao, The Venetian Macao, and the Plaza Macao.
These travel companies could be beneficial when booking a trio within or out of a country. They can help save money and provide a suitable location for the stay. For this reason, they are expected to keep growing.